About KRE Race Engines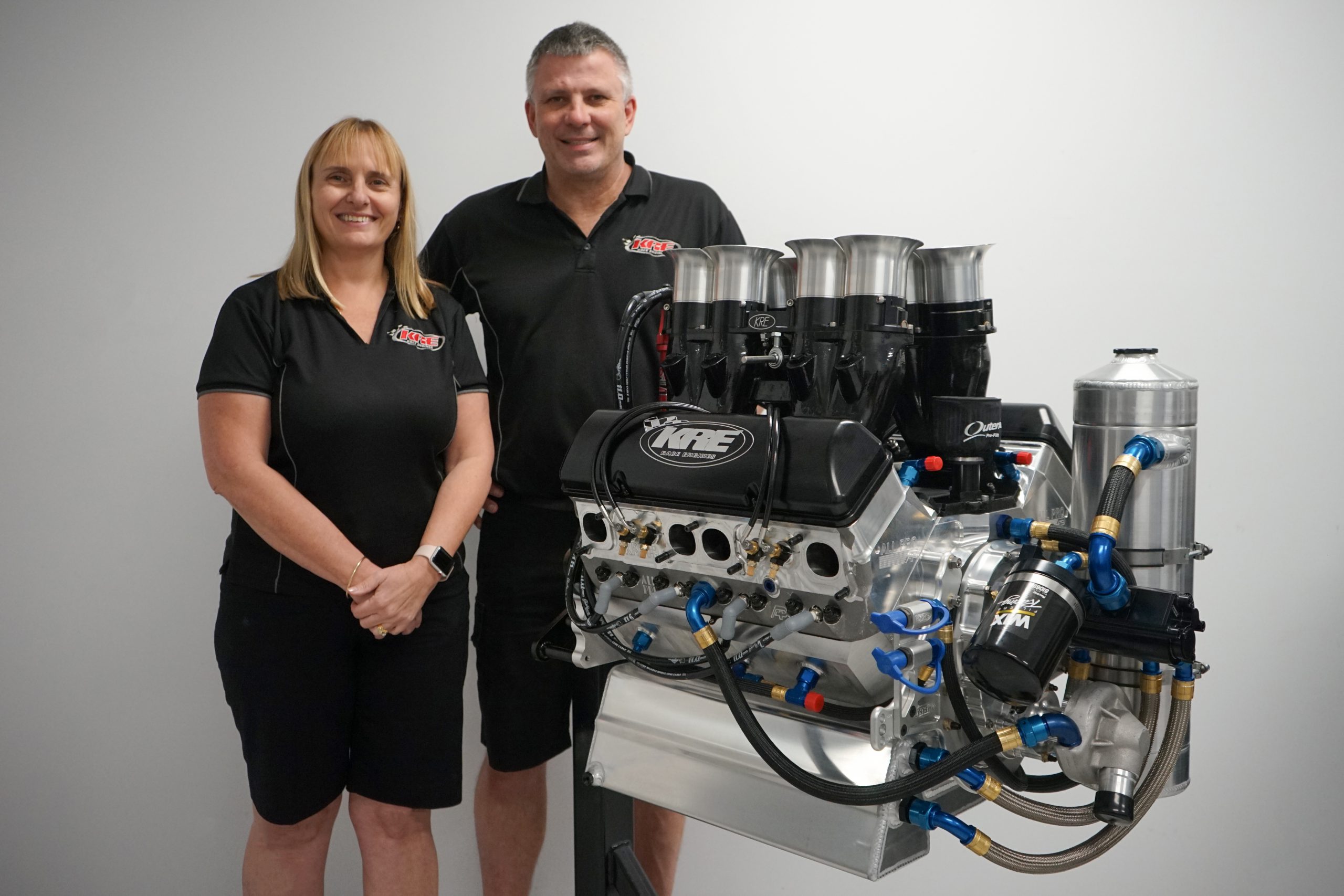 KRE Race Engines is a family owned and run business by Ken & Wendy McNamara that has emerged from a backyard business to a highly successful fully dedicated race engine workshop in the south-east Brisbane suburb of Redland Bay.
Renowned as leaders in Australia for building race winning engines for numerous Speedway teams throughout Australia and New Zealand as well as engines for Supercar teams such as Triple Eight Race Engineering/RedBull Holden Racing Australia, Brad Jones Racing, Team 18, Tekno Autosports & Matt Stone Racing as well as support categories including Super 2 and Super 3 and TCM (Touring Car Masters).
With Ken's automotive mechanic trade background, KRE was formed in 1995 as a mechanical workshop. It then evolved into building Speedway/Sprintcar engines, then Supercar engines and each year building over 100 Sprintcar / Speedway race engines and numerous Supercar engines. "I still enjoy dynoing the engines myself so I can keep an eye on how they perform before they go out to the customer", Ken says.
Early Beginnings
Originally Ken was involved with drag racing whilst doing his mechanical apprenticeship but it was when he became associated with fellow Brisbane Sprintcar racer Darren Jensen that he began to delve into Sprintcar motors. As his expertise grew, so too did his clientele throughout Australia and New Zealand.
Ken's previous Supercar stints working with Mark Larkham, Stone Brothers Racing and John Briggs Racing led him to Triple Eight where KRE now continues to develop their GM Holden race engine program along with other Supercar race teams.
Having progressed from a small team to one of the biggest players in Australian motorsport makes Ken and Wendy appreciate their success. It is a pleasant surprise therefore to hear Ken state, "I've been lucky to be involved with numerous Bathurst wins but I also rate winning the Grand Annual Sprintcar Classic on par with winning Bathurst."
A measure of how much KRE has evolved over the years can be judged by the bare statistic that Ken has gone from working long nights on his own in his backyard shed to a staff of 12 alongside wife Wendy, son Ryan and daughter Tegan. KRE staff include machinists, engine builders, workshop & administration staff.
Solid Management
Working closely with successful Triple Eight owner Roland Dane enabled Ken and Wendy to gain plenty of knowledge as to how to run the business, particularly with an emphasis upon management and racing. "The way that Roland works and the procedures he has in place have helped us go from a one-man show to managing a team of people and customers which is something he has a knack of doing very well. Roland takes his racing seriously and is a straight forward and fair person, so even though his standards are very high, you know where you stand with him. We appreciate greatly that he gave us a chance to look after his race engine program and advice on how to manage it all and we are happy to be still working together all these years later."
We also have a full parts inventory system in place so we can keep track of engine stock and what parts each engine has in it for future reference and we work closely with our parts suppliers directly in the USA and here in Australia, to enable us to stock custom parts suited to KRE specific engines, this enables us to rebuild engines in a timely manner.
Work Ethic
Feedback from customers is perceived by Ken as an important role so usually you'll find him at a race track somewhere around the country any given Saturday night; including during busy weekends away servicing Supercars. He admits, "As our market grew, a lot of our customers appreciated me being there to talk to them. At the same time I can keep in touch with developments and you can understand what happens at the track rather than receiving a phone call later."
Such has been the work ethic and business acumen employed by KRE that Speedway customers now include the likes of Monte Motorsport – McFadden, Ausdeck Racing – Scheuerle, Oldfield, Kratzmann, Dyson – Carson Macedo (USA), Goodyer, Anderson, Millings to name only a few, as well as NZ teams Pickerill, Kebbell/Brindle, Larsen, Duff and Wood. And don't think for one moment it's exclusively Sprintcars either as the V8 Dirt Modifieds of Mark Robinson and David Clark and Super Sedans of Alan Barnes / Matt Pascoe, Bob McCosker also use KRE powerplants & more recently Trophy Truck dirt race engines for Toby Price, Beau Robinson & Mick Magher.
Much of Ken's time is utilised upon a motor's 'driveability', Ken conversant with the need for power delivery to be driver friendly rather than succumb to the search of more horsepower. "One example with Shane (Stewart) was at the Classic I thought that he might not have enough power, but Shane said that he couldn't use what he had. We try to work on the engines having enough power for the time trial, but also driveable for when the track slickens off for the feature race. We also keep in mind that the customers would like 20-25 races before they need a rebuild."
It is this pragmatic approach that endears KRE to end users, as Ken has built an enviable reputation for his common sense approach putting customer service at the top of his priorities and helping racers whether they are a KRE customer or not at the race track. It is this down to earth approach that customers value, Ken revealing, "Even though we have some high profile Speedway and Supercar teams we still look after the single racers with a limited budget.
We have now built the business up so we can concentrate on R&D testing. We are constantly improving our Sprintcar engines and in house dyno testing so we can offer upgrades once they have been tested for power and reliability. Occasionally we will have engines available for our customers to lease if required." With his time at a premium, Ken admits, "As part of growing the business it has made a massive difference in having more staff to keep the jobs moving and be able to offer our customers quick and reliable services.
The KRE Team
With time consuming work such as the demands of the Supercar race program, KRE has specific staff that are dedicated to the main Supercar teams, "we have three guys working fulltime on Supercar engines, two on Speedway engines, two qualified machinists, three workshop staff and two office staff helping Wendy and I run the business". Our son Ryan joined us in 2015 and completed his Engine Reconditioning Trade, now working alongside our head machinist and engine builders, he also works on developing his own business Locked Down Apparel after hours.
In 2018 we put together our own KRE Sprintcar Q88 race team with Ryan as the driver after having done three years in the Qld F500 ranks. By having our own sprintcar we can now test and develop these engines even more and can see how they perform on the track.
State of the Art New Facilities
August 2018 saw KRE move to our own workshop at Redland Bay. We were able to customise and fit out the workshop to suit our specific business needs. We have new offices, a meeting room, four separate engine assembly bays, separate engine stripping room, wash room, servicing room and two dyno and console rooms and an air conditioned machine shop which enables us to do 90% of our engine machining in house with the exception of some block work that we outsource. The upstairs mezzanine is where we house our spare parts and engine storage areas.
The Superflow dynos are set up so we can mount the fuel pump, MSD box and fuel lines to replicate the cars as close as possible for speedway or setup the same as the Supercar engine, so all the mapping can be precisely tuned for power and fuel economy. Both dynos have an array of sensors and data, so just about anything can be tested and a docking cart system allows us to change motors over efficiently. The rooms are set up for good airflow so we get repeatable results.
We are passionate about KRE and what we can achieve for our customers and look forward to what the future of KRE brings to our family business.