KRE Race Engines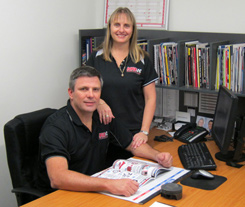 The adage the harder you work, the luckier you get is an apt description of the team at KRE Race Engines. Ken and Wendy McNamara have progressed from essentially what was a backyard business to an ultra successful fully dedicated workshop in the southern Brisbane suburb of Capalaba.
Renowned not only as a winning Speedway engine builder but also providing the V8 motivation behind the RedBull Racing Australia and Tekno Autosports Supercar teams to name a couple.
"I started KRE 20 years ago and we evolved into building predominantly Sprintcar engines, then took on V8 Supercars", Ken said. "Last year we built over 100 Sprintcar / Speedway race engines not including our V8 supercars. I still enjoy dynoing all the engines so I can keep an eye on how they perform. We have a full parts inventory system so we can keep track of stock and what parts each engine has in it. We also work closely with our parts suppliers in the USA and here in Australia, to enable us to stock custom parts suited to KRE engines".
Early Beginings
Originally Kenny became involved with drag racing whilst serving his mechanical apprenticeship but it wasn't until he became associated with fellow Brisbane racer Darren Jensen that he began to delve into Sprintcar motors. As his prowess grew, so too did his clientele with Reeve Kruck whose first car was for Terry Bracken. Ironically Bracken is now employed at KRE as an Engine Builder.
A measure of how much and how rapidly KRE has evolved can be judged by the bare statistic that Ken has gone from working long nights on his own in his backyard shed to a staff numbering 10. Included in that list are machinists, engine builders, workshop staff & administration staff.
Work Ethic
Feedback from customers is perceived by Ken as an important role so usually you'll find him at a race track somewhere around the country any given Saturday night; including during busy weekends away servicing V8 Supercars. He admits, "As our market in Queensland grew, a lot of our customers appreciated me being there to talk to them. At the same time I can keep in touch with developments and you can understand what happens at a track rather than receiving a telephone call."
Such has been the work ethic and business acumen employed by KRE, customers now include heavyweights such as James McFadden, Monte Motorsport, Ausdeck Racing – Andrew Scheuerle, Darren Jensen and engines used here by US aces Shane Stewart, Jason Johnson & more recently Kyle Hirst amongst others. And don't think for one moment it's exclusively Sprintcars either as the V8 Dirt Modifieds of Mark Robinson and David Clark use KRE powerplants too. On the Super Sedan side Wayne Brims and Mick Doblo are also part of the ever growing customer base.  Since 2014 we now also service a number of Midget race teams including Harders Race Team, TFH Racing – Bret Thomas and McAllan Racing WA. 
V8 Supercar and Sprintcar Success
Ken's background comes courtesy of V8 Supercar stints with Stone Brothers Racing, Mark Larkham and latterly Triple Eight where he now develops the Chevrolet based Holdens. Having progressed from a small team to some of the biggest players in Australian motorsport makes Kenny appreciate his success. It is a pleasant surprise therefore to hear him state, "I've been lucky to be involved with four Bathurst wins but I also rate winning the Grand Annual Sprintcar Classic the same as winning Bathurst."
Dedicated to Customer Service
It is this pragmatic approach that endears KRE to end users, as Ken has built an enviable reputation for his common sense approach putting customer service at the top of his priorities; no matter how much harder he has to work to guarantee that satisfaction. With feet firmly planted in reality, McNamara says, "I am happy with the V8 Supercar teams and Dunlop DVS teams we currently service. That is as much as we can manage in our current facility. But, even though they are totally different configurations, developing them has given us the material to translate across into Sprintcars."
Solid Management
Working closely with successful Triple Eight owner Roland Dane has enabled Ken and Wendy to gain plenty of knowledge as to how to run the business, particularly with an emphasis upon management. "The way that Roland works and the procedures he has in place have helped us go from a one-man show to managing a team of people and customers which is something he has a knack of doing very well. Roland takes his racing seriously and is a straight forward person, so even though his standards are very high, you know where you stand with him. We appreciate greatly that he gave us a chance to look after his race engines and advice on how to manage it all; we have a lot of respect for him and he knows that we're not there for the ride."
It is this down to earth approach that customers value, Ken revealing, "Even though we have some high profile Sprintcar teams like Ausdeck Racing, Monte Motorsport and so on, we still look after the single racers with a limited budget. We have now built the business up so we can concentrate on some R&D testing. We regularly build new R&D Sprintcar engines that we will test with some teams to get their feedback; good or bad. This way we can offer upgrades once they have been tested for power and reliability. We also sometimes have engines available for our customers to lease if required." With his time at a premium, Ken admits, "As part of growing the business it has made a massive difference in having more staff in the office to manage the extra phone calls, so I don't get disturbed when I'm on the dyno, but I'll endeavour to call them back as soon as I get time."
(Left to right:    Luke, Alan, Josh, Trish, Beau, Terry, Alex & Ryan)
The KRE Team 
With time consuming work such as the demands of the V8 race teams, we have specific staff dedicated to the V8 teams rather than attempting to do it all himself. "We have two guys working fulltime on V8 Supercar engines, two on Speedway engines, two qualified machinists, two workshop staff and two office staff helping Wendy and  I run the business".
Much of the time expended is utilised upon a motor's 'driveability', Ken conversant with the need for power delivery to be driver friendly rather than succumb to the elusive search of more horsepower. "One example with Shane (Stewart) was at the Classic I thought that he might not have enough power, but Shane said that   he couldn't use what he had. We try to work on the engines having enough power for the time trial, but also driveable for when the track slickens off for the feature race. We also keep in mind that the customers would like 15-20 races before they need a rebuild."
State of the Art Facilities
A quick tour of the imposing workshop is sufficient to comprehend that KRE has maximised all available space with the emphasis upon cleanliness, logistics and the very latest equipment. Two dynos – a Superflow and a DTS – are in use constantly while assembly is, as expected, fastidious. "We have set up a purpose built workshop which includes the two dyno cells, a full machine shop, assembly room and parts storage to enable us to serve the industry properly," Ken said.
"The DTS dyno is set up so we mount the fuel pump, MSD box and fuel lines to replicate the car as close as possible. The Superflow dyno is set for the V8 Supercar engines and is set up the same as the car, so all the mapping can be precisely tuned for power and fuel economy. Both dynos have an array of sensors on them, so just about anything can be tested and a docking cart system allows us to change motors over efficiently. The rooms are set up for good airflow so we get repeatable results. The V8 Holden engines that we do are all within 5hp of each other."
Noticeably absent however is the constant hum of CNC machines with KRE having most of its work such as timing covers etc outsourced. Ongoing development includes new water pumps, injection and other ancillaries all designed are state of the art including a custom made oil pump. As for future aspirations, McNamara talks only of job satisfaction with the ultimate dream that, "One day I would like to build an engine that could win the Knoxville Nationals. I'm sure that is the motivation that inspires Ron Shaver to keep setting targets with Donny Schatz." Who knows, some day soon this proactive workshop could well boast V8 Supercars, Grand Annual Sprintcar Classic and Knoxville Nationals championships.